HOW TO USE LEAVE-IN CONDITIONER FOR HEALTHIER HAIR

Whether you're looking to revive dry or damaged hair, or simply want to maintain healthy, vibrant locks all year around, a hydrating leave-in conditioner is a great product to have in your haircare routine. Thanks to its nourishing and hydrating ingredients, a good leave-in conditioner can offer your hair tons of benefits, like smoothing frizz, detangling stubborn knots, protecting your hair from breakage, and repairing the look of split ends. Bad hair days? We don't know her!
Leave-in conditioner is essential because it provides conditioning benefits throughout the day, and also protects against heat damage, UV rays, and breakage.
WHAT'S THE DIFFERENCE BETWEEN LEAVE-IN CONDITIONER & REGULAR CONDITIONER?
A hydrating leave-in conditioner may seem similar to your everyday wash-out conditioner, but there are some important differences to know.
Regular conditioner plays an important role in your wash-day routine; since shampooing opens your hair's cuticles (the outer layer of each strand) to cleanse dirt and impurities, wash-out conditioner works as a second step to then seal the cuticle. It also rehydrates the hair and restores any moisture that may have been lost while washing.
Leave-in conditioner, on the other hand, is left-in the hair, and its main role is to retain more moisture, for longer. While it's an added step to your haircare routine, we would vouch that it's an essential step, because it provides conditioning benefits throughout the day, and also protects against heat damage, UV rays, and breakage. It's generally applied after you've washed and conditioned your hair, and before you style it. Leave-in conditioner is often on the lighter side, with the goal of not weighing your hair down throughout the day.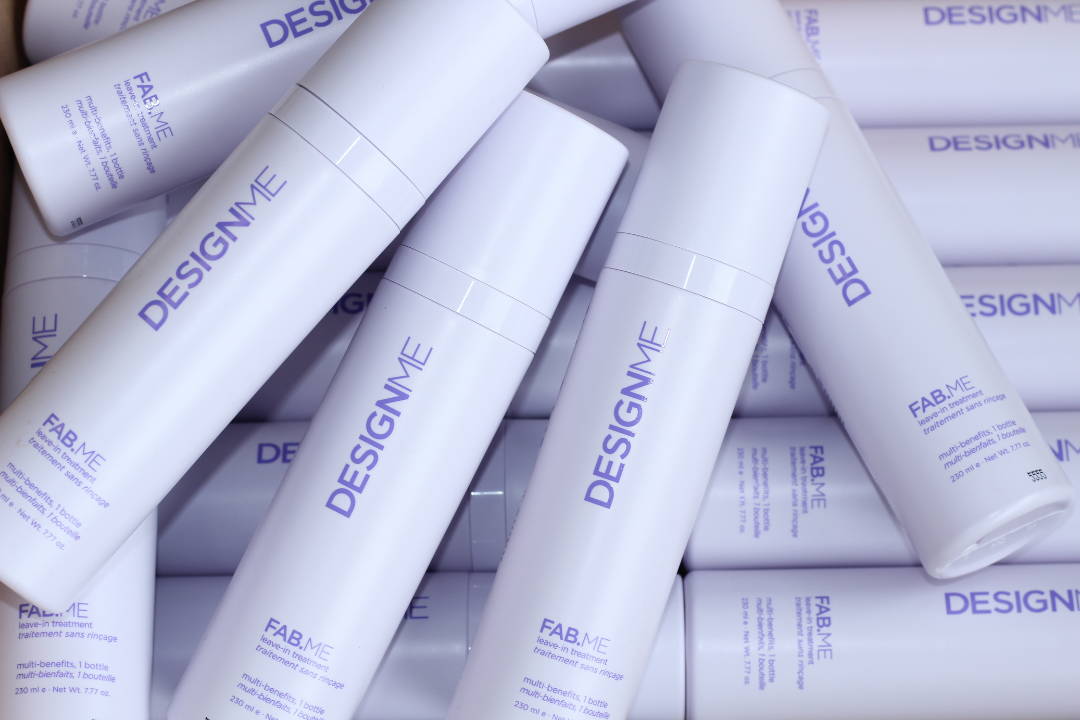 WHAT ARE THE BENEFITS OF A GOOD LEAVE-IN CONDITIONER?
Here are just a few of the reasons why we love leave-in conditioner:
A hydrating-leave-in conditioner locks in moisture, leaving the hair softer, shinier, and improving the hair's elasticity overall.

It helps make detangling a breeze! If you struggle with stubborn knots, a leave-in conditioner adds extra slip, allowing you to easily brush through and reduce breakage.

It helps to combat frizz by retaining moisture.

Acts as barrier for your hair, guarding your hair throughout the day of aggressors that can lead to damage and breakage, such as heat styling and UV rays.

Helps repair and improve the look of hair damage and split ends.

Leave-in conditioners are often lightweight, so there's minimal risk of product buildup. They provide necessary nourishment without making your hair feel heavy.
If you're looking for a leave-in conditioner that checks all of these boxes, we recommend FAB.ME leave-in conditioner. It features nourishing ingredients like Mango Fruit Extract to condition & moisturize, without ever weighing hair down.
HOW TO USE A LEAVE-IN CONDITIONER
TOWEL DRY YOUR HAIR: Once you've completed your routine of washing and conditioning and your hair, go ahead and gently towel dry. We recommend using a soft, microfibre towel and gently squeezing out the excess water from the hair – leaving hair damp but not soaking wet. Avoid vigorous rubbing with your towel as this can lead to breakage and frizz!
APPLY LEAVE-IN CONDITIONER:

Once your hair is damp or towel-dried, you can apply your leave-in conditioner. Spray or spread the leave-in conditioner into your hair, focusing on your mid-lengths and ends. We always recommend starting with less product than you think, then adding more if feel it's needed.

COMB OR BRUSH THROUGH: Disperse the product evenly into the hair by brushing through with a detangling brush or a wide-tooth comb. Then, as the name suggests, leave-in. Don't rinse it out!
COMPLETE YOUR LOOK! Allow your hair to dry (either air dry, or using a blow-dryer or diffuser), and style as desired! Since leave-in conditioner offers heat protection, you can go ahead and use your favourite hot tools to style your hair, totally worry-free.
CAN I USE LEAVE-IN CONDITIONER EVERY DAY?
Leave-in conditioner is most commonly used on freshly washed hair. However, if your hair is on the drier side, you can definitely use it in between washes to give your hair the boost of moisture it needs!
WHICH HAIR TYPES CAN BENEFIT FROM LEAVE-IN CONDITIONER?
Because of it's versatile benefits, every hair type can benefit from the right leave-in conditioner! However, there are certain hair types that can especially benefit by adding this product to their routine.
If your hair falls on the dryer side, you will adore a leave-in conditioner as it will help restore and lock in moisture, for smoother, shinier hair.

If you have curly hair, a leave-in conditioner can work magic on your locks. This hair type is more porous and can dry out easily, since the natural oils produced by the scalp can take longer to travel down the strands.
Leave-in conditioner can give your hair the extra moisture it needs throughout the day. Using a leave-in conditioner can bring amazing benefits to your hair—but you don't have to take our word for it! Give it a try and see for yourself. :)
MORE HAIR TIPS TO DISCOVER