HOW TO MAINTAIN HEALTHY FINE HAIR - TIPS FROM A HAIR STYLIST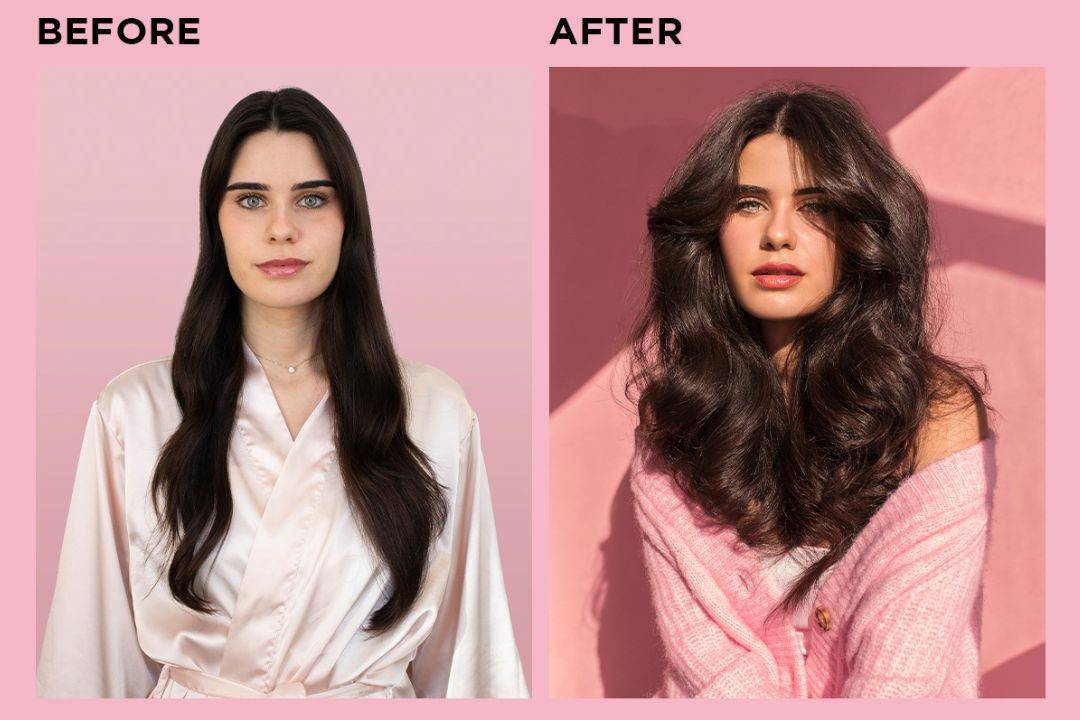 As a girl that literally calls herself SarahsGotBigHair (find me on Instagram @SarahsGotBigHair), you may think I can't relate to those with fine hair, and you're not wrong. But, being a busy hairdresser in the suburbs of Boston, I see clients with *all* hair types, and the ones that seem to have the greatest frustration with their hair are my fine haired beauties. The struggles are real, but they don't have to be forever. If you have fine hair, I've got some tips and recommendations that might change everything!
CHOOSE A VOLUMIZING SHAMPOO

Choosing a shampoo that addresses your hair goals makes a world of difference. For those with fine to medium hair that want more texture, opt for a shampoo that focuses on volume. But what exactly are you getting when you purchase a volumizing shampoo?
Volumizing shampoos are great for fine hair as they have ingredients that will plump the individual hairs, making it have more life and height. In addition, a volumizing shampoo will rinse completely clean from the hair, so that it doesn't leave behind any residue that may weigh fine hair down.
Long gone are the days where conditioning meant that you were weighing the hair down and making it limp or lifeless. Nowadays, we can find specialty conditioners for fine hair that support that plumping action and seal it all in. Conditioner seals the cuticle after cleansing, gently detangles to prevent breakage, and gives the hair a healthy radiance. To sum it up, conditioner is non-negotiable!
The key with fine hair, is to celebrate what you already have. All you need is practice, patience, and the right products.
When it comes to styling fine hair, keep the volume train going by using a volumizing mousse that's designed plump hair strands, enhance body, and give hair hold. This could be the most important part of your hair regimen, because so far, this is the only product we've discussed that you are not rinsing out!
Instead of using styling creams or other products that carry a higher molecular weight, opt for a weightless mousse that will volumize and fluff the hair. The award-winning PUFF.ME volumizing mousse is my #1 styling product for any of my clients who desire more volume, especially those with fine hair, since it's super lightweight and creates a beautiful, long-lasting volume. It also protects against heat styling and locks out humidity to keep your style!
PROTECT YOUR HAIR FROM HEAT
Fine hair can be especially vulnerable to breakage, and while breakage is not fun for any hair type, it's especially frustrating for those with fine hair as you'll want to retain your hair's fullness, body and shape as much as possible. To reduce heat-induced breakage, this tip is two-fold.
Use a heat protectant: Heat protectants come in many forms, and long gone are the days of heavy heat protectants that weigh your hair down. As mentioned earlier, we love PUFF.ME volumizing mousse since it multi-tasks to not only give hair volume and hold, but also protects it from the heat! Double-win!
Turn the heat down: Once you have your PUFF.ME volumizing mousse in your hair, you want to continue your journey of progress. I suggest using your blow dryer with your concentrator attachment, and making sure that you don't have your dryer at its max output. Many blow dryers that are more than a few years old can scald and damage your delicate hairs. So, turn it down one level, and practice your round brushing skills. With a little bit of patience, you'll be giving yourself the blow out of your dreams, zero breakage required.

 
DON'T SKIP YOUR REGULAR TRIMS
Now the word "regular" means different things to different people, for someone with healthy hair that wants to grow their hair longer, I recommend once a season. However, some of you out there have a hair type or hairstyle that needs to be cut more often. Don't let your split ends ruin the progress you've made. Once the hair is split, there is no way to glue it back together. Volumizing and hydrating products out there can reduce the appearance of split ends, but nothing will solve the problem like a trim. Find a stylist you can trust, that has good taste that you can vibe with.
Many of my clients feel like they have received some type of curse if they have hair that leans toward being fine or not as dense. Yet I long for the day I could have a beautiful blowout in less than 20 minutes! It's true, everyone wants what they don't have. The key here, at the end of the day, is to celebrate what you do have. All you need is practice, patience, and the right products.
Sarah Heath is from Boston, Massachusetts and is a true hair enthusiast. Throughout her 14 years as a salon professional, she has mastered the art of balancing a behind-the-chair career while sharing professional education around the country for leading industry brands. Her love for DESIGNME was instant and she is so excited to share the love and bring accessible education to all.
Check out our volumizing hair products including shampoo, conditioner, and mousse!
MORE HAIR TIPS TO DISCOVER