HOW TO KEEP YOUR CURLS FRIZZ-FREE

When we embrace our natural waves or curls, the excitement to keep our hair frizz-free becomes a fun challenge! While there isn't a one size fits all solution, there is certainly hope and plenty of options to explore. Continue reading to discover why curls tend to attract frizz, effective ways to combat it, and helpful tips to manage any frizz that may unexpectedly appear (quite literally).
WHY DOES CURLY HAIR GET SO FRIZZY?

Before we begin conquering that frizz, we need to understand the causes. Knowing your curl type is a good starting point and can help treat your curls better with a more targeted curly hair care routine. But till then, here are some reasons why your curls get the frizz attack.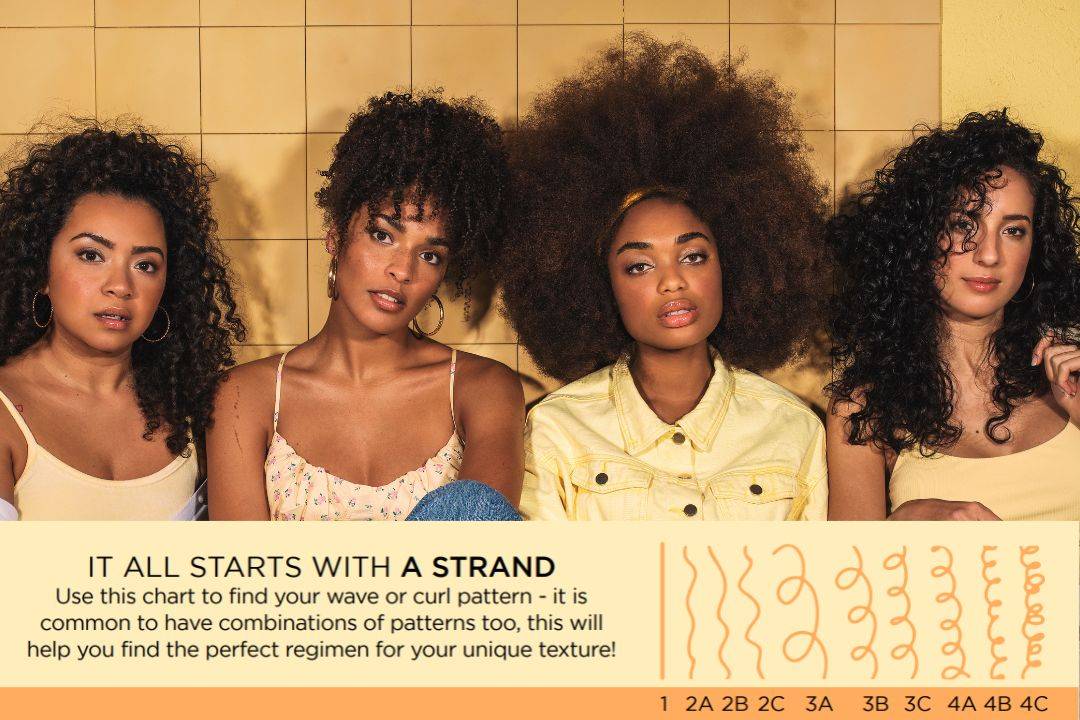 You may have noticed; curly hair tends to be drier due to its natural spiral shape; making it harder for the natural oils our scalp produces to travel down the strands. The dryness causes your hair cuticle to lift, creating that dreaded 5 letter word F-R-I-Z-Z. So, it's vital that our hair has all the moisture it can get. Hydrated hair is happy hair!
While hydration is our friend, high humidity is not. When the water level in the air is higher than that of our curly hair, the outer layer of the hair starts to take in the moisture around it and some swelling begins. Unfortunately, humidity can break down the hydrogen bonds in your hair and even change the shape of your strands, causing frizz and limp hair. (Think Monica from Friends on vacation to Barbados).
You know damage when you see it and worse when you feel it. Though heat is a top culprit to causing damage to our strands, it's not the only thing causing damage to curls! Experts say even the temperature of the water you are using to rinse your hair can be a cause for damage. So next time you're rinsing your curly hair, turn down the heat and try using tepid to cool water, rather than hot water.
Knowing your curl type is a good starting point and can help treat your curls better with a more targeted curly hair care routine.
Straighter hair tends to get oiler quicker, requiring more frequent washing. But washing once a week to every two weeks depending on your curl pattern is ideal for curly hair. The tighter the curl the longer you can go between washes. For a periodic waterless refresh, grab your favorite dry shampoo.
Roughly towel-drying your curly hair can create friction, wreaking havoc on the cuticle and cause frizz and dryness. After a wash, try blotting your hair dry with a microfiber towel and try using a diffuser on a medium to low setting. Don't forget to spritz in your favorite leave-in treatment before drying for extra nourishment, protection and shine!
HOW TO PREVENT YOUR CURLY HAIR FROM FRIZZ

The good news is, there are several ways to prevent frizz and keep your curls beautifully nourished.
Choose the correct curly hair products.

Be sure to get the correct shampoo and conditioner for curly hair. These products should contain all those extra nutrients your curls need to be healthy and smooth. Plus, using a serum and/or mask can also help lock in that hydration and prevent dryness.

Use products wisely.

Once you have the correct products, you also need to ensure that you're using them properly. Firstly, make sure that you avoid over-shampooing, as it's important to cleanse your hair while still maintaining its natural oils. Additionally, be generous while using conditioner, as it effectively detangles hair and keeps it moisturized, providing amazing benefits.

Hang up the hot tools.

Heat can damage curly hair, and it can be hard to reverse. But if you absolutely have to heat style, do use a heat protectant such as the FAB.ME multi-benefit leave-in spray, which will nourish your hair, plus add a lustrous shine. It can protect the cuticles and reduce breakage and frizziness.

Embrace the power of curl products.

To keep your curls frizz-free, it's important to invest in high-quality products designed for curly hair. Curl shampoos, curl conditioners, curl balms, and curl gels can all help seal moisture, enhance curl definition, and provide a protective barrier against frizz.

Start from the bottom.

Even Drake knows. Apply your curl conditioner to the ends of your hair and work your way up. Think of it as treating the hair with the most history first. Keep in mind, applying curly hair conditioner at the roots can cause a buildup on your scalp, weighing down your hair.

Detangle with a wide-tooth comb or your fingers.

Curly hair is prone to knotting as it's textured and dry, so detangling is a must. But brushing is infamous for frizz, so combing or even raking your curly hair with your fingers is a good alternative. Remember to be as gentle as possible.
Here are some suggestions to help you keep your curls frizz-free in between washes:
Sleeping on a satin pillowcase can help reduce friction and frizz.

Use a little bit of leave-in conditioner for those between-wash days for extra hydration.

Add some curl spray hair gel or curl balm if you want more definition to your curls.
Use a curl enhancing mist in between washes to refresh curls and reduce frizz.

To create some volume, flip your hair over and gently massage your scalp with your fingers. But be sure to resist the urge of running your fingers through your hair, as this will lead to unnecessary frizz and disrupt your curl pattern.
Though there isn't a one size fits all solution to fighting frizz, incorporating some, or all, of these tips into your regular hair care routine will work wonders to keep your strands silky and your curls defined. Armed with these tips and the best curly hair products, you're well on your way to maintaining frizz-free curls that will leave others in awe. Remember, it's all about hydration, proper product selection, and a gentle touch!
MORE HAIR TIPS TO DISCOVER